Peggy Phelan  Richard Meyer
CONTACT WARHOL
fotografia senza fine
 In collaborazione con The MIT Press, Cambridge (Massachusetts), London (Gran Bretagna)  Con contributi di Jessica Beck, Jon Davies e Alexis Bard Johnson
Edizione italiana a cura di Vera Minazzi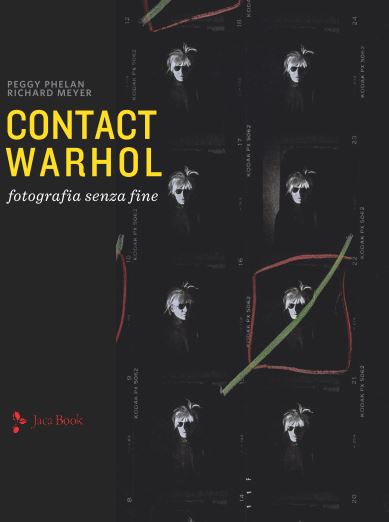 Un'incredibile antologia fotografica accompagnata da brillanti approfondimenti critici, una raccolta inedita di scatti di Andy Warhol 
Sebbene le creazioni artistiche di Andy Warhol siano largamente note e ammirate, vi è un aspetto importante della sua opera che è stato toccato solo in minima parte dagli studi. Nel corso dell'ultimo decennio della sua vita, Warhol portava quasi sempre con sé una macchina fotografica reflex a lenti singole da 35 millimetri, con cui scattava quasi un intero rullino al giorno, per un totale di 130.000 nuove immagini da esplorare. Questi scatti della sua vita sono visibili su 3600 provini fotografici che il Cantor Arts Center della Stanford University ha acquisito nel 2014 dalla Andy Warhol Foundation. Immagini inedite scattate da Warhol a celebrità come Liza Minnelli, Bianca Jagger e Debbie Harry vengono pubblicate per la prima volta. «Una foto significa che so dove sono stato ogni minuto. Ecco perché fotografo», disse una volta Warhol. Gli scatti coprono gli undici anni precedenti la sua morte (1987) e ritraggono sia una folgorante mondanità sia i protagonisti della sfera intima e privatadell'artista.
Un abbagliante diario iconico del leggendario artista pop che ha anticipato le nostre abitudini fotografiche quotidiane
L'edizione in lingua inglese è stata pubblicata in occasione della mostra Contact Warhol: Photography Without End, organizzata e presentata dall'Iris & B. Gerald Cantor Center for the Visual Arts at Stanford University, aperta dal 29 settembre 2018 al 6 gennaio 2019.
Peggy Phelan è una studiosa femminista e una dei fondatori di Performance Studies International. Insegna presso la Stanford University. Il suo lavoro riguarda principalmente l'indagine sulla performance come evento dal vivo.
Richard Meyer, professore di storia dell'arte, insegna arte americana del  xx  secoloe Storia della fotografia, tiene corsi sulla censura artistica e il primo emendamento, la pratica curatoriale e gli studi di genere e sessualità. Il suo primo libro, Outlaw Representation: Censorship and Homosexualityin Twentieth-Century American Art ha ricevuto l'Eldredge Prize.